April 12, 2016
Blue and White: Mottahedah, Ralph Lauren, Terrafirma & More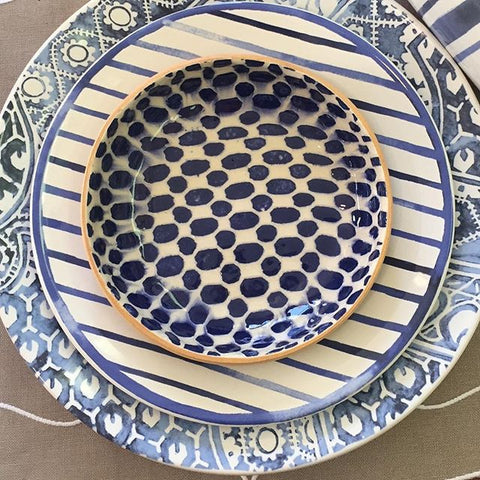 Blue and White is a color combination that never goes out of style.  It is one of our favorite looks on a table- clean, classic and cool.
Here are a few of our favorite blue and white patterns.
Classic Mottahedeh Blue Canton dinnerware collection is named for the great Chinese trading port from which it came. Blue Canton is noted for the blue lattice border surrounding a variety of landscape scenes on various pieces. In America, Chinese blue and white porcelain was in demand well into the 19th century and has become part of the heritage of many American families. Mottahedeh Blue Canton recaptures historical and centuries old tradition and taste. 
This beautiful stoneware salad plate features a striped pattern painted in cool navy and rich cobalt hues. Ralph Lauren's Cate d'Azur Salad Plate is available at Non(e)such.
The Country Estate Collection- the Conservatory is a serene place of growth and nurturing, reminding us to spend time with loved ones over al fresco summertime lunches. Our scalloped plate pairs superbly with long conversations and perfumed salads plucked from the herb garden. Or for a solitary respite, spend an afternoon penning sonnets in the Reading Pavilion with a slice of spiced chocolate cake. Featuring: Conservatory, Reading Pavilion, Hen House, and Balloon
Terrafirma products are made entirely by hand and kiln-fired to extremely high temperatures, giving each piece it's own personality and great durability. This Cobalt Charger is available at Non(e)such.
Originally named "Apponyi Flowers" for Count Albert Apponyi, this Chinese Bouquet Blue Dinner Plate features a 1930-vintage pattern with floral motifs adapted from earlier Herend patterns influenced by the Orient. Handmade and handpainted in Hungary on fine white porcelain with 24K gold accents.