October 17, 2017
Fall Must-Haves: Tableware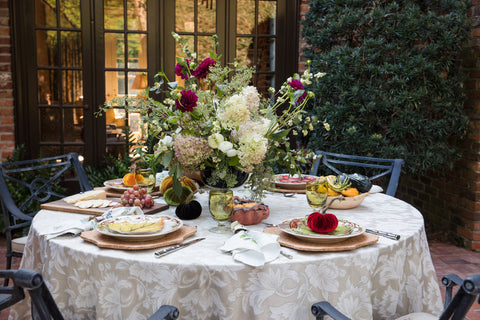 It finally feels like Fall in Columbia, South Carolina.  We are lucky (for the most part) that our weather is mild enough we can enjoy the outdoors.  Well, maybe not in July...... 
Over the weekend we had a small gathering with friends and took advantage of the change in seasons. 
Here are some of the things we used to set the table.
Juliska Forest Walk china  and linen napkins. 
 We layered the Forest Walk with the Quinta Cork Charger to bring in some texture. 
The Andrew Pearce Cheese Board and Terrafirma Bowl mixed in perfectly for our appetizers. 
 William Yeoward  goblets for water glasses. 
The flowers in the center were inspired by all the colors in the plates and napkins.  We moved the flowers once we sat down to eat but they were perfect for the table for cocktails. 
Hope that you can get outside and dine soon!
xo