October 28, 2016
Tableware Ideas for Thanksgiving: Juliska Forest Walk China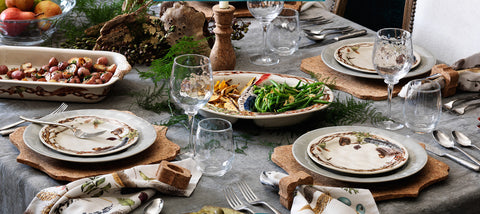 We wanted to share a few of the Thanksgiving pieces that'll be decorating our tables this season, and we hope you're as excited as we are to dig into all the eats one could ask for on a Thursday!
Juliska Forest Walk china offers an ideal way to set a warm, welcoming table for family and friends. Don't forget the Juliska pewter sauce boat--because it's not Thanksgiving without gravy! Add the Quinta natural cork centerpiece bowl/champagne bucket to bring in some texture to your tablescape or to play with color, and bonus: it's a multifunctional piece!
Not be outdone, the Spode Woodlands china sets an impressive seasonal table, and can also couple nicely with the Juliska Forest Walk. The Maple Leaf monogrammed iron handled wooden board is a beautiful piece for those moments when everyone inevitably gathers in the kitchen.
A Calaisio medium serving tray will serve as a great cocktail tray for setting up a small wet bar to keep those Thanksgiving Day football fans occupied or to serve everyone else beverages in apology for all that rowdy noise! While you're at it, pour one out for the turkey, holler R.I.P. while carrying this amazing nut bowl with antlers from Ben & Lael to really bring a full-on Celtic vibe to the festivities and give your family the gift of a lifetime: something to gossip about. Or, you could just put that awesome Ben & Lael bowl out for a truly unique look your guests aren't soon to forget in a really good way. 
It goes without saying that the reason we spend so much time and energy making everything look picture-perfect is our desire to create (or try to) an environment where our friends and families can come together to love, argue, make up, reminisce... you get the idea. Whether that happens can be a gamble. Which is why the pièce de résistance of your Thanksgiving table has to be the Turkey on the Table. In all the frenzy, the food, and the family, this is one simple thing you can do to help the less fortunate while remembering how to celebrate the simple gift of gratitude. Yeah, yeah, yeah, it's mushy, but so are mashed potatoes and those are delicious!
Eat up, y'all!